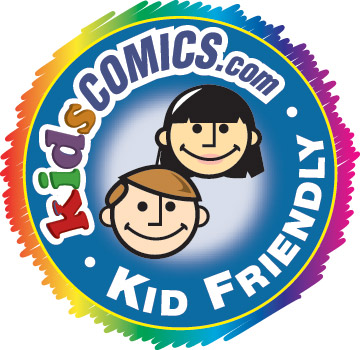 The PREVIEWS catalog is full of great comics for young readers, and December's Kids Comics column is full of fun kid friendly comics. This month try to keep up with Sonic The Hedgehog, check our courage to see if we're Brave, and renew our pilot's license so we can soar through Star Wars!
Every month we pick a few titles out of the PREVIEWS catalog that any comic reader will love, no matter their age. Whether these stories are for a young reader new to comics, or a great all-ages story perfect for you, these stories make a great addition to any bookshelf. Look below to see the titles that will soon arrive at your local comic book shop along with many more great comics and toys, and be sure to pre-order your favorites!
---
Sonic The Hedgehog #1

You've seen him and probably played him in several video game adventures. He's a timeless character that's synonymous with Sega. He's Sonic The Hedgehog, and now he's appearing in comic book adventures again starting with Sonic The Hedgehog #1 (FEB180334) from IDW Publishing. Odds are, Sonic is still breathing heavy, because he just finished defeating the evil Dr. Eggman's latest plot. But there's going to be little time to rest because now he has to race around the world to shut down the robotic Badnik forces that are attacking villages! It's a lot of work for our fast and furious friend. What do you think could make his job easier? Music? Nope. His best friend Tails! Look for this new comic book in the February PREVIEWS catalog.
Star Wars Adventures Annual 2018

So just how up-to-date are you on what's going on in the galaxy far, far away? Ok. You've seen the original Star Wars movies. Maybe you even saw the prequels. We can assume that you're currently watching Star Wars adventures on your tablet. But do you stop there? Well, we've got some news for you: Star Wars news doesn't start and stop with the latest YouTube upload. Now you can see just how strong the Force has to be with our heroes as new events play out in the Star Wars Adventures Annual 2018 (FEB180374) from writer John Jackson Miller and artist Jon Sommariva. All is not well, unfortunately, for Princess Leia. She's been hurt! So now it's up to Luke Skywalker to fill in for her, and go on a sensitive diplomatic mission with the easily-irritated Sarkans! Check out this new comic from IDW Publishing in the February PREVIEWS!
Adventure Time #75

How easy is it to get to paradise? How hard do you have to dream? Will you like the music that you hear? Will it take the final issue of a comic book to find out? Well, yes, which is why you can't miss Adventure Time #75 (FEB181241) from BOOM! Studios. If you want closure. If you want to be able to stand back and see the big picture, and follow the story of Ooo from the past, present, and future, you can't miss this oversized final issue! You get a front row seat at the wedding of Jake's granddaughter. Plus, Jake, Finn, and the residents of Ooo reminisce on the long path that took them here, and in the process they look back on friends, enemies, and all the adventures that came with them. Plus, Ryan North, Shelli Paroline & Braden Lamb return! Look for Adventure Time #75 in the Comics & Graphic Novels section of the February PREVIEWS!
Disney/Pixar: Brave

If you had your choice of movies to see, and a Pixar movie was one of the choices, it isn't hard to figure out which movie you would want to see. Whether it was Toy Story, The Incredibles, or Cars, Pixar always delivers! The same could be said for Brave! But here's some good news for you: Brave isn't just something you can watch on DVD or Blu-Ray anymore. Now it's been adapted to a beautiful full color 48-page comic book drawn by Disney/Pixar's master artists! Once again you're introduced to Merida, a skilled archer that walks her own path in life, and as a result she defies an age-old custom sacred to the lords of the land...unleashing chaos and fury in the kingdom! See how history repeats itself in the Disney/Pixar Brave One-Shot (FEB181612) that you can find from Joe Books in the Comics & Graphic Novels section of the February PREVIEWS!
Disney's Tangled — The Series Volume 2: Write Story GN

Rapunzel has a lot to celebrate! Yes her book club has allowed her to catch up on anything and everything she missed over the last 18 years. That's all good and fine. But what could be even better than an endless night of reading? Meeting her favorite author! The truth is that Rapunzel's favorite author is J.K. Yewgise. She reads everything Yewgise writes. So meeting the writer would be cool, right? Well, guess how fast cool changes to all-out awesome sauce? Not only is Rapunzel going to meet J.K. Yewgise because she's been invited to Corona, but the author has agreed to write Rapunzel's authorized biography! The only problem is, the biography has to be about the truth...and Rapunzel sees that the biography is full of lies! Find out if the truth comes out in Disney's Tangled — The Series Volume 2: Write Story GN (FEB181724), which you'll find in the Comics & Graphic Novels section of the February PREVIEWS!
These are just a few of the cool Kids Comics you can pre-order from the February PREVIEWS!
Look for the Kids Comics icon throughout the catalog and make sure to visit KidsComics.com to see the all-ages titles coming out this week!