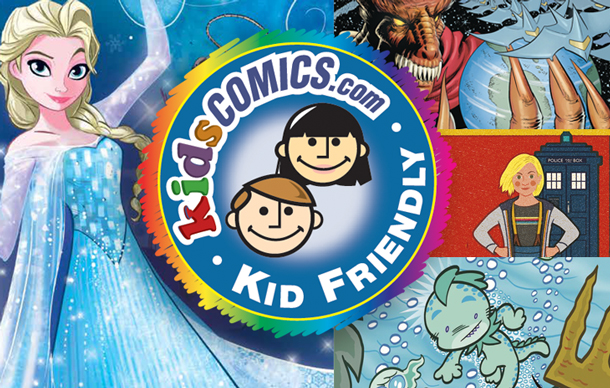 It's Kids Comics Month in the June PREVIEWS catalog and our Kids Comics column is full of fun kid-friendly comics perfect for readers of all ages! This month Disney's famous favorite sisters are back in Disney Frozen: Breaking Boudaries #1, an alien, laser-shooting space shuttle comes to your comic shop with Dinosaucers, and the Harmony Core is set to destroy the Earth in Steven Universe: Harmony #1!
Every month we pick a few titles out of the PREVIEWS catalog that any comic reader will love, no matter their age. Whether these stories are for a young reader new to comics, or a great all-ages story perfect for you, these stories make a great addition to any bookshelf. Look below to see the titles that will soon arrive at your local comic book shop along with many more great comics and toys, and be sure to pre-order your favorites!
Disney Frozen: Breaking Boundaries #1

Everyone knows that families are never "normal." What's "normal" to some is "chaos" to someone else. You would be quick to agree that "chaos" best describes life for sisters Elsa and Anna in Disney Frozen: Breaking Boundaries #1 (JUN180302). In this first multi-issue comics tale we see that the sisters' kingdom has been attacked, and a wild animal is loose in the village. Most people would close their doors and windows and wait to be rescued, but not Elsa and Anna. The queen and princess have the help of Olaf, Kristoff . . . and a mysterious, adventurous young woman to set things right. Hopefully. Look for this new book in the Dark Horse Comics section of the June PREVIEWS catalog!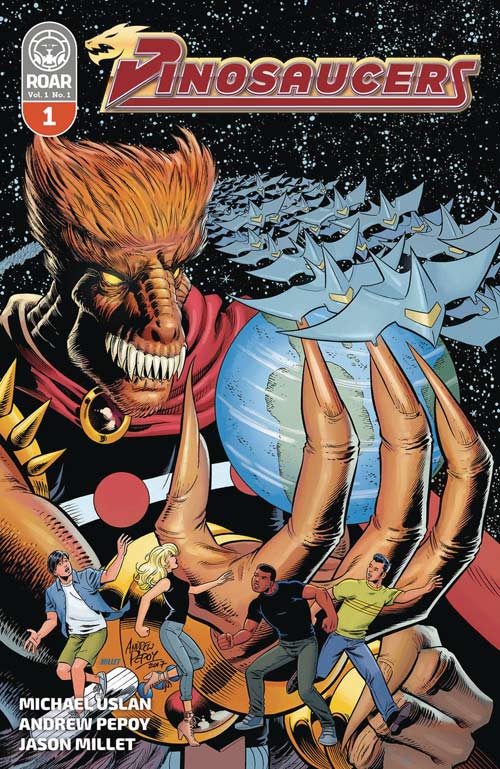 Dinosaucers #1
How many of you have heard of Mars Attacks? Ring a bell? If you Google it, you'll see some really creepy ugly Martians with heads that look live oversized brains, faces that look like skeletons, and the ugly critters have the nastiest space guns that blast apart anyone or anything that get in their way. Well, a new spin on alien invaders has now arrived at Lion Forge's Roar comics imprint, and it's going to make fans of Mars Attacks very happy! In Dinosaucers #1 (JUN181874), some reptilian aliens are looking for a planet that has air, water, and a lot of food. And when we say "food," we mean lots of people to eat! So naturally, they're headed for Earth! Pick up Dinosaucers #1 in the June PREVIEWS, and see if the advanced humanoid dinosaurs are coming to your town for breakfast, lunch, and dinner!
Gilbert: The Little Merman #1

Art Baltazar is the bestselling author of Tiny Titans. He's been working on comics for kids for a long time, but this time instead of writing stories about superheroes he's going into the deepest part of the ocean to have you meet the son of King Nauticus, king of all the oceans. He's a little sea creature, and you're about to discover his wide aquatic world in Gilbert: The Little Merman #1 (JUN181921) from Papercutz. In this book you and Gilbert both will see for the first time that there are many unknown and undiscovered species of underwater creatures in the ocean. Some are nice. Some are not! Learn along with Gilbert when it's time to make friends, and when it's best to swim away...fast! Look for this new book in the Comics/Graphic Novels/Print section of the June PREVIEWS catalog!
Doctor Who: One Doctor, Two Hearts HC

Some things get better with age. Doctor Who is one of them. And why not? There have been a lot of actors who have played the part of Doctor Who on TV since 1963. For those of you who don't know the character, Doctor Who is a Time Lord. He has had a lot of adventures with a lot of friends, and now he has been reborn as woman. In between his new lives, Doctor Who has taken a moment to help young readers learn to count and spell with the Doctor Who: One Doctor, Two Hearts HC (JUN181501) book that is drawn with retro-style illustrations that feature monsters both past and present, as well as Doctor Who's past identities. Look for this hardcover from BBC Books in the Comics/Graphic Novels/Print section of the June PREVIEWS catalog!
Steven Universe: Harmony #1

Is there ever any peace in the universe? Answer: nope. At least, not in Steven's universe. But that's what keeps us coming back for more fun! Writer Shane-Michael Vidaurri and artist Mollie Rose don't hold back on the action, either, as Steven Universe: Harmony #1 (JUN181225) shows Steven has his hands full with helping Sadie cope with quitting her job at the Big Donut and losing Lars. It's trouble in paradise that is usually made better with cookies or ice cream. Steven doesn't have either, so he'll have to do his best. But he won't have a lot of time to spare as he also has to deactivate an old Diamond Authority artifact called the Harmony Core before it destroys Earth! Look for this new series from BOOM! Studios/kaboom! in the Premier Comics section of the June PREVIEWS catalog!
---
Here are a few more of the cool Kids Comics you can pre-order from the June PREVIEWS (click on the item codes for more information):
Miraculous: Takes of Ladybug and Cat Noir Season Two: The Chosen One TP
Action Lab Entertainment
JUN181296
Ozy and Millie Vol. 1 GN
AMP! Comics For Kids
JUN181392
Lumberjanes: The Infernal Compass OGN
BOOM! Studios
JUN181213
Monster Mayhem GN
Dial Books
JUN181654
Dog Man Vol. 5: Lord of the Fleas
Graphix
JUN181814
Disney Descendants 2: Twisted Field Trip GN
IDW Publishing
JUN180711
Disney Princess Comics Collection Vol. 4 TP
Joe Books
JUN181845
Look for the Kids Comics icon throughout the catalog and make sure to visit KidsComics.com to see the all-ages titles coming out this week!